Cab Closure Kits
Printer Friendly Format
CH Model Closure Kit Parts
Part#
Description
Quantity
204SX380B
Main Mounting Kit
1
6QS4402M
Cab Back Panel
1
20QS53M2
Back Cab Glass
1
Other Parts That Are Needed Which Are Not In The Standard Kit
4ME583M
Rear Exhaust Pipe
1
11ME229P3
Band Clamp
3
32MR3101M
Trailer Receptacle Bracket
1
23AX469
Nut
16
6AX1506
Bolt
16
18QK150A
Ball Joint
2
20QE3191
Cab Valve
1
212RD43P11
A/C Hose
1
212RD41P20
A/C Hose
1
---
A closure panel kit is available for converting a CX or CH (with CX-style cab having a "walk-through" sleeper opening) sleeper cab to a day cab. For CH model chassis, this closure panel kit is only applicable for later models having the CX-style cab (cab base part No. 1QS51122M, including all M number variations). This kit does not apply to earlier CH sleeper chassis have cab base No. 1QS51112M. On earlier CH model chassis, the opening through the back of the cab is keyhole shaped, whereas on later chassis, the entire back of the cab is opened.
CX Model Closure Kit Parts
Part#
Description
Quantity
204SX412
Cab Suspension Kit
1
204SX403
Closure Panel And Reinforcement Brackets
1
204SX404
Interior Trim Panel Kit

Available In Warm Gray Only

1
204SX405
Hardware Kit
1
20QS53M
Cab Rear Glass
1
23QS525M
Cab To Closure Panel Lower Gasket
1
23QS526M
Cab To Closure Panel Upper Gasket
1
Also....
When converting a chassis equipped with a high-rise sleeper to a day cab, installation of clearance and marker lamps will be necessary:
| | | |
| --- | --- | --- |
| Part Number | Description | Quantity |
| 38MO4105M | Clearance Lamp Assembly | 5 |
| 111MO58 | Chrome Bezel | 5 |
| 87AX66 | Grommet | 5 |
| 77AM11 | Screw | 10 |
Also....
For easier access to the area behind the cab for servicing the glad hands and trailer cord, a wider deck plate is available. The wider deck plate covers the gap between the frame rail and the fuel tank on the left-hand side of the vehicle, and allows access to the area behind the cab by way of the fuel tank steps. Installation of the deck plate requires two rubber mounting strips and two rubber pads. Part numbers for these components are as follows:
| | | |
| --- | --- | --- |
| Part Number | Description | Quantity |
| 39QL4157M | Deck Plate | 1 |
| 12AX147F | Rubber Strips | 2 |
| 39QL2541M | Rubber Pads | 2 |
Also....
An optional map pocket is available. The following parts are required for installation of the map pocket:
| | | |
| --- | --- | --- |
| Part Number | Description | Quantity |
| 39QR434M2 | Map Pocket | 1 |
| 127AM5002 | Screw | 2 |
| 39QR435M2 | Screw Cover | 2 |
| 228AM3 | Nut Clips | 2 |
| 400AX35 | Screw | 3 |
| 271AM5006 | Washer | 3 |
New Mack Day Cab Conversion Kit Gives Sleepers Second Life
Goal is to enhance resale value
LEHIGH VALLEY, PA (Jan. 13, 2003) - Giving customers another way to take advantage of its acknowledged strength in the highway resale market, Mack Trucks, Inc. has introduced a new retrofit kit that readily converts its sleepers into day cabs.
Designed for use on all of the company's Vision models, as well as its CH walkthroughs, this product allows a truck originally used for long or regional haul applications to have a highly productive second life as a local hauler.
"Our primary objective is to give dealers and customers the products and services they need to be successful in today's highly competitive business environment," said Kevin Flaherty, senior vice president, sales.
"The ability to convert sleepers into day cabs gives dealers an opportunity to sell more trucks, it gives customers that need to resell or trade their vehicles an even more valuable commodity, and it gives those looking for a previously owned vehicle additional options," Flaherty said.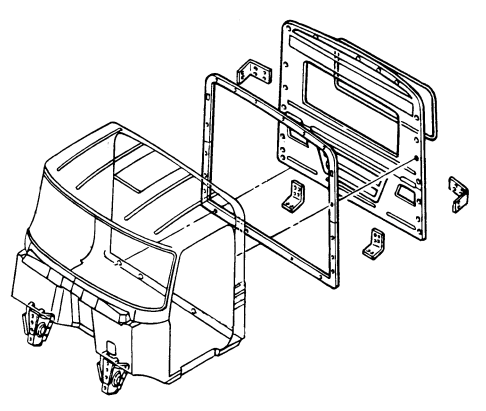 The Day Cab Conversion Kit, available through any Mack dealer, consists of three components: a welded subassembly, or structural kit, which is essentially a new rear wall for the cab complete with "bolt on" reinforcements; a suspension kit; and an interior trim kit. The structural kit bolts into the same holes as the original sleeper, making it easy to install, while the trim kit makes the interior look as good as new.
Once a sleeper section is removed, and other minor prep work is accomplished, the entire Day Cab Conversion Kit can be installed without special tools in less than eight hours. When complete, the retrofitted sleeper has all the structural integrity, features and eye appeal of a standard production day cab.
"We believe we achieved our ultimate goal, which was to enhance our customers' and dealers' return on their investment by giving them a way to convert Vision and CH walkthrough sleepers into day cabs using a product that is readily installed, is extremely sound structurally, and provides the kind of appearance customers expect of a Mack product," said Dave Adams, Mack project leader and engineer.
Although the Day Cab Conversion Kit has been available only for a short time, the response from dealers has been enthusiastic.
"I estimate that we convert 25 to 30 percent of our previously owned sleepers to day cabs for resale to agricultural operations, stone and gravel suppliers and a variety of other local haulers," said John Letwin, owner of Mack Sales and Service in Manitoba, Canada. "And now that the Vision sleeper has been out there for awhile, we're starting to see more and more of them coming in on trade. We've already had a lot of customers who've seen the Vision sleeper say to us, "Hey, that's a great looking truck. Can I get it in a used day cab?" This new retrofit kit allows us to give these customers exactly what they want. So we're very excited about it. We think it's going to have a very positive impact on our business."
Customers have also expressed great interest in the new product, including those with large mixed fleets who are excited about the possibility of reducing costs by converting their high mileage sleepers into local haulers.
[ Taken From Mack Trucks.com News Section ]